Homework No. 4: H and C
Outline of Psychological Measurement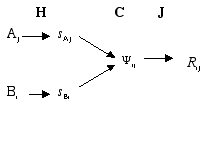 Response = J[C(H(A), H(B))]

Aj and Bi are the stimuli for Column j and Row i.

sAj and sBi are the subjective, scale values for the stimuli.

Y

ij is the subjective impression of the combination of Aj and Bi.

Rij is the overt response to this combination.

H are the functions that assign subjective values to the stimuli.

C is the combination function combining the subjective values.

J is the judgment function that assigns responses to impressions.

In this assignment, we let J be the identity function; i.e., Rij = Yij

Homework:

Make predictions for a 4 x 4, A x B, symmetric, factorial design using integers from 1 to 4 for levels of A and B. (sAj = Aj = j; sBi = Bi = i). Plot predictions as a function of A with a separate curve for each level of B.

Part A: H and J are identity functions.

1. Additive: Tij = sAj + sBi

2. Multiplicative: Pij = sAj sBi

3. Subtractive: Dij = sAj - sBi

4. Ratio: Rij = sAj/sBi

Part B: Repeat Part A, but now let H be a power function (square):

sAj = H(Aj) = A2 Similarly, let sBi = H(Bi) = B2

Part C: Repeat Part A, but substitute A.5 and B.5 for H(A) and H(B)

(H(B) = square root of B).

Part D: Repeat Part A, substituting log(A+1) and log(B+1) for H(A) and H(B).

Part E: What remains the same, irrespective of H, for the additive model? What changes? How can you use these graphical properties to separate H and C? Given a new set of data, how would you decide what model is appropriate? How would you determine H? Before you answer this question, organize your sixteen graphs for Parts A through D and additive, multiplicative, subtractive, and ratio models.

by Michael H. Birnbaum, © 1974-2001, all rights reserved.