Entwined Lives: Twins and What They Tell Us About Human Behavior
ABOUT THE BOOK

From The Publisher
Bringing together the latest, cutting-edge research, with illustrative case histories of twins and their families, preeminent twin researcher Dr. Nancy L. Segal explores ways in which twins enhance our knowledge of human behavioral and physical development. How twins hold a mirror up to ourselves is reflected in real-life stories like those of Jim Lewis and Jim Springer, identical twin brothers separated at birth and reunited at age thirty-nine. In addition to having the same jobs, cars, hobbies, and health histories, each discovered in the other a long-lost best friend, in-laws, and nieces and nephews. Bernard J. Shapiro, Ph.D., and Harold T. Shapiro, Ph.D., the only known twins to share the distinction of becoming presidents of leading universities, were uncertain if they were identical or fraternal twins until the age of sixty-two. These, along with many other case histories documented in this fascinating book, go a long way toward helping us solve our behavioral riddles.

Reviews
From Boston Globe
Thoroughly researched, annotated, and footnoted, Entwined Lives is impressive in the breadth of its study...

From Booknews
An exploration of behavioral and biological aspects of human twins which discusses both experimental data and anecdotes from twins and their parents. Among the topics treated are twins' language patterns, the biological bases of identical and fraternal twinning, how twin studies affect legal decisions and settlements, and what twin research tells us about athletic skill. Annotation c. Book News, Inc., Portland, OR (booknews.com)

From Library Journal
In the most significant survey of twin research to date, Segal (director of the Twins Study Ctr. at California State Univ., Fullerton, and a fraternal twin herself) illustrates that by using twins as "living laboratories" we can sort out which aspects of twins' lives are influenced by genetic inheritance, and, in turn, we can begin to "lay bare the basis of human behavior." Drawing on all sorts of twin studies, Segal describes twin types and elaborates on findings regarding the development of personality and intelligence. She also looks closely at twin relationships (including conjoined twins) to understand grief, competition, bonding, cooperation, and more. Most refreshing are Segal's frank discussion of the complications inherent in the research and her many proposals for further research. Though her prose is dense, it holds plenty for anyone interested in twins or in fine questions of human development and evolutionary psychology. This is an excellent supplement to Lawrence Wright's more popularly written Twins: And What They Tell Us About Who We Are (Wiley, 1997). Recommended for academic and public libraries.--Rebecca Miller, "Library Journal" Copyright 1999 Cahners Business Information.

From Kirkus
A comprehensive survey of twin research that includes an impressive array of twin-related data in an anecdote-filled and entertaining presentation. Segal, a twin herself, directs the Twins Study Center at California State University, Fullerton, and was formerly with the Minnesota Study of Twins Reared Apart (its director, Thomas Bouchard, has written the foreword). Clearly fascinated by her subject, she assumes, probably quite rightly, that interest in twins, especially identical twins, is widespread. Identical twins are, she notes, "the reflecting pools whose altered images teach us how the range of environmental influences shape developmental outcomes.'' Stories about the remarkable similarities between identical twins reunited after being raised separately are irresistible, and while Segal includes them, she goes far beyond such material. She discusses in detail what twin research has revealed about individuality, identity, and questions of nature-vs.-nurture in intelligence, personality development, and athletic prowess. Segal also considers such topics as pseudo-twins (i.e., same-age unrelated individuals reared together), the special relationship of twins with each other, the effects of one twin's death on the other, how fertility treatments have impacted multiple births, the difference between a clone and an identical twin, and twinning in the animal kingdom. Her interviews with some noteworthy twins, such as the Shapiro brothers, who both became university presidents, are especially revealing. Even the unique problems of conjoined, or Siamese, twins are treated. Its comprehensiveness and its extensive notes make this a valuable source for psychologists and other students of twinning; twins, parents of twins, and anyone who ever wished for a twin will also find much to savor here. (36 b&w photos) .


| | | |
| --- | --- | --- |
| | Acknowledgments | |
| | Foreword | |
| | Preface: Not Like Me | |
| | Introduction | |
| 1 | Identical and Fraternal Twins: Living Laboratories | 1 |
| 2 | Identical, but Not the Same: Differences Between Identical Twins | 21 |
| 3 | Natural Experiments: Unusual Twin Types | 36 |
| 4 | Developing in Tandem: Intelligence and Special Mental Skills | 49 |
| 5 | Unfolding Lives: Personality Traits, Mental Disorders and Atypical Behaviors | 70 |
| 6 | Friendship Extraordinaire: Twins' Special Relationship | 97 |
| 7 | Twist of Fate: Twins Reared Apart | 116 |
| 8 | Another Twist of Fate: Children Adopted Together | 152 |
| 9 | Lonesome Crowd: Loss of a Twin | 169 |
| 10 | Making Multiples: New Fertility Treatments and Beyond | 187 |
| 11 | Two-Base Hits and Triple Toe Loops: Physical Growth and Athletic Prowess | 208 |
| 12 | Noah's Ark: Twins in the Nonhuman Animal Kingdom | 230 |
| 13 | The Other Half: Noteworthy Twins | 247 |
| 14 | Double Indemnity: Twins in the Courtroom | 278 |
| 15 | Separate Minds in Shared Bodies: Conjoined Twins | 295 |
| 16 | Double Entendre: Twinship's Many Meanings | 313 |
| | Afterword: Part of Me | 329 |
| | Glossary | 335 |
| | Notes | 338 |
| | Index | 387 |
Uniting Psychology and Biology : Integrative Perspectives on Human
Development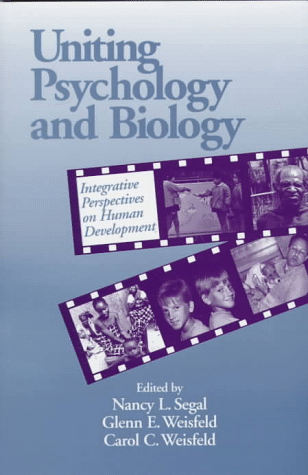 ABOUT THE BOOK

A developmental & genetic perspective on aggression, twin research perspective on human development, etc.

From The Publisher
Students and scholars interested in the twists and bedrocks of human development will find in this volume a stimulating sampler of cutting-edge research on the topics that define Freedman's career: behavior genetics, human ethology, evolutionary psychology, and culture. An expansive ripple effect of scholarship has resulted from Freedman's broad-based research and teachings, and Uniting Psychology and Biology presents this intellectual ancestry. Freedman's own groundbreaking research is elaborated on by the research and theories developed by his colleagues and other prominent social scientists, including many of his former students - now accomplished scholars in their own right. Their work serves as a point of departure in contemplating Freedman's framework, broadening its scope and utility in the context of their own substantive interests, making Freedman's research useful to today's scholars and those of the next generation.

Reviews
From Booknews
This collection of 22 papers from the October 1995 Festschrift for Dr. Daniel G. Freedman begins with two papers by the doctor in which he discusses his mentors and various aspects of his holistic approach to human behavior, which considers both and evolutionary and cultural factors. The remaining papers apply themes raised by Dr. Freedman to four disciplines: behavioral genetics, human ethology, evolutionary psychology, and cultural studies. Annotation c. by Book News, Inc., Portland, Or.


| | | |
| --- | --- | --- |
| | Contributors | |
| | Foreword | |
| | Preface | |
| | Tribute to Dan | |
| Sect. I | Introduction | 1 |
| 1 | Pursuing the Big Picture | 3 |
| 2 | My Three Mentors | 19 |
| 3 | Is Nonduality Possible in the Social and Biological Sciences? Small Essays on Holism and Related Issues | 47 |
| 4 | Are Genetically Based Individual Differences Compatible With Species-Wide Adaptations? | 81 |
| Sect. II | Genetic Bases of Behavior: Contributions to Psychological Research | 101 |
| | Introduction | 103 |
| 5 | A Developmental and a Genetic Perspective on Aggression | 107 |
| 6 | Genetic Analysis of Social Behavior | 131 |
| 7 | Twin Research Perspective on Human Development | 145 |
| | Conclusion | 175 |
| Sect. III | Biological Approaches to Developmental Issues: Rethinking the Data | 185 |
| | Introduction | 187 |
| 8 | Ethological and General Systems Perspectives on Child-Parent Attachment During the Toddler and Preschool Years | 189 |
| 9 | Sexual Orientation as a Developmental Context for Lesbians, Gays, and Bisexuals: Biological Perspectives | 217 |
| 10 | What Can the Genotype Tell Us About Complex Human Conditions? | 239 |
| | Conclusion | 271 |
| Sect. IV | Naturalistic Studies of Behavior: How Does a Cross-Cultural Approach Inform Ongoing Research? | 275 |
| | Introduction | 277 |
| 11 | Why Do Hadza Children Forage? | 279 |
| 12 | Expression or Communication About Emotion | 315 |
| 13 | Mother-Infant Interaction in Cross-Cultural Perspective | 339 |
| 14 | Marriage in Cross-Cultural Perspective | 355 |
| | Conclusion | 369 |
| Sect. V | Evolutionary Analyses: New Issues and Continuing Controversies | 379 |
| | Introduction | 381 |
| 15 | Genetic Basis of Intrapsychic Conflict | 385 |
| 16 | Happiness in Evolutionary Perspective | 397 |
| 17 | Discrete Emotions Theory With Specific Reference to Pride and Shame | 419 |
| | Conclusion | 445 |
| Sect. VI | Film Retrospective: The Method and the Medium | 451 |
| | Introduction | 453 |
| 18 | Film Commentary: Constitutional and Environmental Interactions in Rearing Four Breeds of Dogs | 469 |
| 19 | Film Commentary: Development of the Smile and Fear of Strangers, With an Inquiry Into Inheritance of Behavior and Cross-Cultural Differences in Newborn Behavior | 473 |
| Sect. VII | Behavior Genetics, Human Ethology, Evolutionary Psychology, and Culture: Looking to the Future | 481 |
| | Introduction | 483 |
| 20 | Pair-Bonding Deconstructed by Twin Studies of Marital Status: What Is Normative? | 485 |
| 21 | An Ethological Perspective on Normal Behavior Especially as It Relates to Mating Systems | 493 |
| 22 | Evolving Beyond Evolutionary Psychology: A Look at Family Violence | 507 |
| | Conclusion | 515 |
| Sect. VIII | Final Overview: Uniting Psychology and Biology | 523 |
| App | Publications and Films by Daniel G. Freedman | 535 |
| | Name Index | 543 |
| | Subject Index | 561 |
| | About the Editors | 567 |