| | |
| --- | --- |
| Psychology Department Newsletter | September 2001 |
---
Welcome to the Fall 2001 Semester
Welcome to all new and returning students. If you are new to Cal State Fullerton, be sure to visit the department Advisement Center as soon as possible. The advisors can help you select the best classes for your interests and goals. They also have tips for sequencing classes and information on career and graduate school options. The Advisement Center is located in H-507. Sign-up sheets for appointments are posted outside the office. If you are planning on graduating in January or June, make sure you have all of your grad check procedures completed.
Advisement and Internship Center Moves to H-507
The Advisement and Internship Center has moved to H-507. The larger office now houses academic advisement, internships, and career advisement. Dr. Mearns, Dr. White, and Dr. Smith will be the undergraduate advisement coordinators this year with the assistance of graduate student Tim Kovacs. Dr. Stohs is the psychology internship coordinator. The phone number for advisement is 278-3102, and the internship phone number is 278-7774
Career Advisement
Psychology: Scientific Problem Solvers - Careers for the Twenty-First Century is a new booklet for undergraduate psychology majors from the American Psychological Association. You can read the booklet on-line at the APA Web site: http://www.apa.org/students/brochure/homepage.html Copies are also available in the Advisement Center. Don't forget the many campus career resources such as the Career Planning and Placement Center and the Center for Careers in Teaching.

Student e-mail -- important news
Every student is issued a campus e-mail account that is good as long as you are enrolled at CSUF. The e-mail address is sent with your registration materials; the password is the same as your Titan registration PIN. The campus mail is important because the school or your instructors will be sending you messages to that account. You can now change your campus e-mail user name. Also, if you already have an e-mail account with another e-mail service such as AOL or Hotmail, you can have your campus mail forwarded to the off-campus mail address. To do this:
Go to http://titanonline.fullerton.edu and log on using your student ID and PIN.
Use the menu to go to Student E-mail. There you will see options for handling your student e-mail. One option allows you to change your user name and another allows you to specify a forwarding address.
The address to check your campus e-mail is http://www.fullerton.edu/student. If you don't know your e-mail user name, you can check it at http://access.fullerton.edu/chkemail.html And finally, you can now access your e-mail using mail readers such as Eudora, Netscape, or Outlook Express -- directions may be found at http://access.fullerton.edu/emaildocs/student.htm
Check the Dates for Withdrawing from Classes
Be sure to check the class schedule for dates and rules for withdrawing from classes. These dates are listed on the inside cover of the class schedule. You will not be dropped from a class automatically if you stop attending -- you must follow the regulations for withdrawing from a class. If you have any questions, check with the Department or University Advisement Office.
Welcome Eriko Miyahara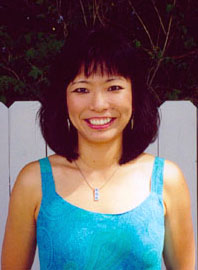 Eriko Miyahara joins the department this year as a new full-time faculty member. She was born and raised in Japan, and then came to the United States to attend graduate school at the University of Chicago. After getting a Ph.D. in psychology, Dr. Miyahara was a post-doctoral fellow at UC Irvine and the University of Nevada, Reno. She then made a big move to the east coast to take a position as an assistant professor at the Rochester Institute of Technology. After four years of teaching and research experience, Dr. Miyahara is happy to be moving back to the west coast.
Dr. Miyahara's research interests focus on human visual perception, including normal and defective color vision and spatial vision. She will be continuing research in visual perception, and is also interested in various areas such as language, gender, and handedness.
In her free time, she runs, bikes, and loves trying out good wine. Dr. Miyahara's office is H-830J (phone 278-7388). Her e-mail address is emiyahara@fullerton.edu.

Honors and Awards
The Psychology Honors and Awards Banquet was held on May 11 at Angelo and Vinci's in downtown Fullerton. Award recipients included:
Tonya Clark, Outstanding Undergraduate Student Award
The Outstanding Master of Science Student Award was shared by Samantha Etchells, Virginia Mintzlaff, and Catherine VanRiette
The Outstanding Master of Arts Student Award was shared by Pamela Drake and Makeba Parramore.
The Outstanding Alumnus Award recipient was Bruce Vancil of the American Cancer Society
Makeba Parramore and Victoria Rodlin, Ed Stearns Exemplary Statistics and Research Design Award
Tia Kim received the Professor Loh Seng Tsai Award
The first Professor Frank Bagrash Award was made to Tia Kim and Timea Kohegyi
The Outstanding Service Award was made to Mary Catone
Terry Jones, the department's Information Technology Consultant, and Professor Marilyn Davis received the Graduate Reciprocity Award
Duana Welch was honored as the Outstanding Professor for 2000-2001.
Congratulations to all and many thanks to Professor Jennifer Devenport for organizing this event.
Congratulations are also in order to graduate student Lawrence Wright. Lawrence received the Academic Senate Outstanding Service Award for "outstanding contribution and dedication to the Institutional Review Board, educational achievements, community service, leadership qualities, and commitment to our university." The award was accompanied by a $1000 scholarship. Lawrence was a member of the University IRB during the past academic year.
Psychology Department Alumni Honored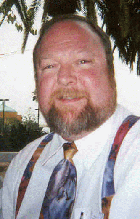 Bruce Vancil, a 1983 graduate of the psychology department at CSUF, was named the outstanding alumnus at the department's commencement ceremony in May. Bruce is the Cancer Control Director for the American Cancer Society in Orange County. He began working with the Cancer Society as an undergraduate intern providing counseling to patients. He now oversees 48 different programs including patient services, public education, and professional education for health care professionals. Bruce is also President of the Orange County Breast Cancer Coalition and a member of the advisory board of numerous community agencies.
Dr. Hallie Yopp Slowik was named Cal State Fullerton's Outstanding Professor last May. Hallie received her

B.A. in psychology from Cal State Fullerton in 1976 and is a professor in the Department of Elementary, Bilingual, and Reading Education. After graduating from our psychology program, Hallie was a teacher in Orange County and then completed her doctoral degree in education at UC Riverside. She joined the faculty at Fullerton in 1986. She has authored or co-authored dozens of articles and book chapters and has been awarded a number of research grants. She has given scores of presentations on literacy to educational groups throughout the nation and has been a speaker at numerous reading conferences. Last fall, Hallie and her twin sister, Dr. Ruth Yopp-Edwards, also a CSUF psychology alum and professor of elementary, bilingual and reading education, were unanimously selected for induction into the California Reading Association Hall of Fame.
Welcome New Graduate Students
We have a large class of new graduate students entering our two master's degree programs this fall. The names of all the new students and their undergraduate affiliations are listed on the graduate student welcome page.
Student Organizations... Get Involved!
There are several psychology student organizations: Psychology Department Student Association (PDSA), Psi Chi student honor society, Peer Mentors, and the American Psychological Society Student Caucus (APSSC). Watch for the first meetings of these organizations and the programs they sponsor throughout the year.
New Unit Requirement - 120 and Out!
The number of units required to graduate with a B.A. in Psychology has been reduced from 124 to 120 units, effective this semester. Students graduating in January 2002 and later are affected by this change. The change does not affect the number of psychology units you need, nor does it change the general education requirements. It only reduces the number of university elective units that you need for your degrees. If you have any questions, make an appointment at the department Advisement Center.
New APA Publication Manual
The American Psychological Association has just published a new fifth edition of the Publication Manual. Information on changes in the new edition can be obtained at the APA Style Web site at http://www.apastyle.org and Dr. Cozby's APA Style Web Page.
Master's Degrees Awarded
Congratulations to the students who completed their master's degrees in June and August:
Christy Ake (M.S.) Effects of Gender Stereotypes on Knowledge Base Access and Memory
Leslie Cruz (M.S.) The Influence of Family Support, Acculturation, Ethnic Identity, and Self-Efficacy on the Academic Achievement of Native Hawaiian and Hawaiian-Reared College Students
Pamela Drake (M.A.) Successful Aging: Investment in Genealogy as a Function of Generativity, Mobility, and Sense of Place
Samantha Etchells (M.S.) Parental Ratings of Aggression, Abasement, and Favorability in Virtual Twins
Tia Kim (M.A.) Ethnic Differences in the Predictors of Adolescent Delinquent Behavior
Michelle McGuire (M.A.) Implicit Stereotypes, memory Self-Efficacy and Memory Performance in Older Adults
Virginia Mintzlaff (M.S.) Anxiety and Defensiveness: What do the Hands Reveal?
Aimee Nelson (M.S.) Perceptions of the Causes and Treatment of Shyness and Social Anxiety
Nhu-Ngoc Ong (M.A.) Social Representations of Democracy in a Vietnamese-American Newspaper
Makeba Parramore (M.A.) Understanding the Effects of Gender Stereotypes on Knowledge-Base Access and Memory: An Examination of Sex Differences in School-Aged Children
Victoria Rodlin (M.A.) Sensitivity and Specificity of Neuropsychological Assessment in Discriminating Cognitive Functioning in Alzheimer's Disease, Depressive Pseudodementia, and Normal Aging
Cindy A.Soto (M.A.) Academic Achievement, Self-Concept, and Dance in 8-12 Year Olds
Lauren J. Sussman (M.S.) Monozygotic and Dizygotic Twins Retrospective and Current Bereavement-Related Behaviors: An Evolutionary Perspective
Tim Tran (M.S.) An Assessment of the Validity of the Multiple Applicant Interview
Catherine VanRiette (M.S.) Effects of Anger and Aggression on Driving Behavior
And many thanks from these students to the faculty members who served as thesis chairs: Professors Blackman, Bathurst, Cozby, Harrigan, Kee, Marelich, Mearns, Mori, Segal, Welch, White, and Woll.
Visit the department Web site
Take a look at the department's Web site at http://psych.fullerton.edu. You can find information on faculty, advisement, and links to useful sources of information for psychology majors.
Grad Check Time!!!
Students planning on graduating in June or August 2002 should have already filed for a graduation check; if you have not done so, apply at UH-180 for a grad check as soon as possible. When your grad check forms are mailed to you, bring them to a meeting with a faculty advisor in the Department Advisement Center.
Students planning on graduating at the end of Fall 2002 should apply for a grad check soon within the next couple of months. You will need have the forms completed by an advisor by the end of the spring 2002 semester. If you have any questions about grad check procedures, ask an advisor.
Department News
Dr. Duana Welch and her husband Don Cameron are proud parents of a baby girl Julia. Dr. Welch is taking the fall semester off but will be back in the spring semester.
Congratulations to Dr. Woll whose book, Everyday Thinking: Memory, Reasoning, and Judgment in the Real World, has just been published by Lawrence Erlbaum Associates. It's even available at amazon.com!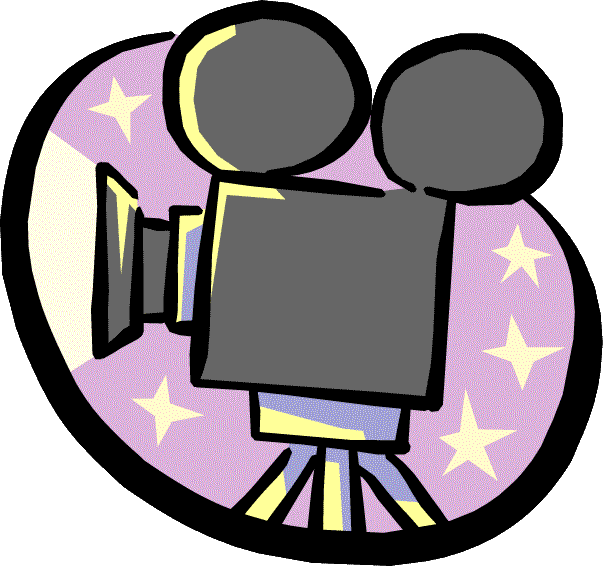 A new introductory psychology telecourse, Psychology: The Human Experience, features Professors Segal, Woll, Blackman, and Gottfried. Emeritus Professor Bagrash was a consulting producer of the series which will be shown on PBS stations throughout the country. It is currently airing locally on Sundays from 11:00am to noon.
And even more congratulations to Dr. Marelich whose knot was tied this summer. According to the social registry, the couple celebrated in Italy.
Like to plan ahead? The Western Psychological Association (WPA) meeting is coming to Orange County -- mark your calendar for April 11-14, 2002. The deadline for submitting papers is November 13, 2001.

---
Do you have news or suggestions for the next newsletter? Contact Dr. Cozby via e-mail at cozby@fullerton.edu.
Read previous on-line newsletters:
November 2000
February 2001
April 2001

Return to the Psychology Department Home Page