| | |
| --- | --- |
| Psychology Department Newsletter | September-October 2002 |
---
Chair's Welcome
Welcome to the 2002-2003 academic year at Cal State Fullerton. The Psychology Department continues to grow and offer exciting programs for students. We welcome a new faculty member, Mindy Mechanic, who will be teaching graduate and undergraduate courses in clinical psychology. The student organizations are planning a series of events throughout the year including Psych Day in April. The Western Psychological Association will be held in Vancouver, British Columbia this year. I encourage all students to become involved in the many events and opportunities for research that are available in the department.
David Perkins
Department Chair
Student Organizations
Take part in one (or more!) of the department's student organizations. The organizations sponsor speakers, workshops, and the annual Psych Day.
PDSA is the Psychology Department Student Association. PDSA is open to all students and is affiliated with the Department Associations Council. The officers are:
Frank Carillo - President
Justin Samuel - Vice President
Esther Choi - Secretary
Eka Pebri - Treasurer
Frances Eschenwald - Publicity
Dr. Blackman is the faculty advisor for PDSA.

Psi Chi is the national honor society in psychology. Officers this year are:
Kimberly Caldwell - President
Kim Nowak - Vice President
Michael Harden - Public Relations
Dr. Welch is the faculty advisor for Psi Chi. Psi Chi membership applications are available on-line, in the Psychology Student Handbook, Psychology Department office (H-830M), Psychology Student Lounge, and Psychology Advising office (H-507).

APSSC is the American Psychological Association Student Caucus. The officers this year are:
Emily Chang - President
Vivienne Ganga - Vice President
Clay Cook - Treasurer
Evelin Szewczyk - Secretary
Frances Eschenwald - Faculty Rep
Dr. Devenport is the APSSC faculty advisor.
Meet Dr. Mindy Mechanic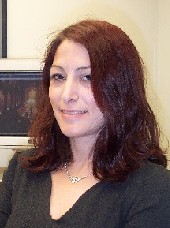 Dr. Mechanic is the newest faculty member in thedepartment. She just arrived this fall and will beteaching undergraduate and graduate classes inclinical psychology. Her Ph.D. is from the University ofIllinois in Champaign-Urbana. Dr. Mechanic's workaddresses the psychosocial consequences of trauma, victimization, andinterpersonal violence. Specific topics she has studied include: traumaticmemory, intimate partner violence, stalking, domestic homicide, and theco-occurrence of child maltreatment and intimate partner violence. Dr. Mechanicis also interested in the development of more effective legal, criminal justice,and social policy responses to interpersonal victimization to complementindividual psychological intervention strategies targeting posttrauma symptoms.She also works in the area of psychology and law and forensic psychology and hasserved as an expert witness in cases involving battered women charged withcrimes and other legal cases involving victimization. Her office isH-825K, and her e-mail address is mmechanic@fullerton.edu
Advisement Office
The Psychology Undergraduate Advisement Office welcomes new and returning Psychology majors. We invite you to make an appointment for advisement at H-507. Sign-up sheets are located on the bulletin board near the window in the hallway outside H-507. We have faculty and graduate student advisors available Monday through Friday, with evening hours most days. The Advisement Office can help with course selection and career and graduate school planning.
Important information on grad checks: If you are planning on graduating in Spring 2003, you must apply for a grad check immediately. Application forms are available at the cashier's office in UH-180. Once you receive paperwork in the mail from the university--a process that may take two or more months--you will need to make an appointment with a faculty advisor in the Psychology Department Undergraduate Advisement Office to complete the grad check. If you are planning on graduating in Fall 2003, there is less urgency but you should apply for your grad check later in this semester. Fall 2003 graduates may complete their grad checks any time during the Spring 2003 semester.
Spring Semester Registration: Registration for Spring begins on Nov. 7. Students needing any type of advisement concerning planning courses to take should plan to see a psychology advisor during October.
H&SS Evening Advisement NowOpen in H-112!
A new H&SS Student Access Center including space for departmentorganizations and the Evening Advisement Center is now open in H-112. Hours areMonday - Thursday, 12-7 pm and Friday, 12-4pm. Available services include:en
When the department office is closed, papers and assignments will be accepted, time stamped, and delivered to professors (no more shoving papers under doors!).
General university information and university forms will be available for evening students.
Copy machine
Internet access
Meeting space for student organizations
Grad Programs at CSUF

The department has two outstanding graduate programs: the Master of Arts in general psychology and the Master of Science in clinical psychology. The MA program has a research focus. The MS program has a clinical focus; it prepares graduates to obtain the MFT license and work in a variety of settingsproviding social and mental health services. Both have a thesis requirement. Both programs have application deadlines of March 1, 2003 for admission in Fall 2003. All materials must be submitted by that time for your application to be considered. These include the CSUF university application, the Psychology Department application, letters of recommendation, and scores for the GRE general (verbal and quantitative) and Advanced Psychology subject test. For your scores to be available by March 1, you should take the GRE by this December at the latest. Application forms are available online at http://psych.fullerton.edu/graduate.html.and in the Psychology Department Graduate Office (Kay Karlson, H-830L). The MA coordinator is Dr. Bathurst and the MS coordinator is Dr. Mearns. Both coordinators have office hours devoted to advisement of prospective graduate students.
WPA News
November 18, 2002 is the deadline for submitting proposals to present research papers, posters, symposia, etc. at the 2003 WPA meeting in Vancouver, British Columbia next spring. The call for papers, a list of invited speakers, the Terman program, and other useful information can be found on the newly improved WPA web site at www.westernpsych.org. Students can also join WPA as well as submit their research projects.
Welcome New Grad Students
The department welcomes all the new graduate students beginning their programs this fall.
The new M.A. students (and their undergraduate institutions) are:
Ricardo Castillo, CSU Bakersfield
Jill Hodgson, Western Oregon University
Andrew Klerer, UC San Diego
Dawn Korsen, San Diego State University
Jennifer McCartin, CSU Fullerton
Phillip Morris, University of Mass, Lowell
Hong-Nhung Nguyen, CSU Fullerton
Jehan Seirafi, UC Irvine
Ewelina Szewczyk, CSU Fullerton
Jaclyn Tejwani, CSU Long Beach
Debra Wilson, CSU Fullerton
The new M.S. students are:
Lorena Arnold, UC Irvine
Evelyn Aizenberg, Monmouth University
Debra Campbell, UCLA
Katie Chan , CSU Fullerton
Kelly Hanson, CSU Long Beach
Karmin Pulos, San Diego State.
Shannon Tobias, Seattle Pacific University
Kathleen Turnbaugh, Chapman University
Kristina Sobko, UC Santa Barbara
Aveh Soltanian, UCLA
Jannee Stoika, UC Irvine
Congratulations to Master's Graduates
The following students received their master's degrees at the University Commencement Ceremony last June. Congratulations. Here are their names, current activities, and thesis titles. Many thanks to the faculty who served as thesis advisors for these students: Professors Bathurst, Blackman, Harrigan, Kee, Marelich, Mearns, Mori, Perkins, Smith, Stokes, Welch.
Kim Dailey (M.A.) Employed doing research
Application of the Health Belief Model in Explaining Exercise Behavior
Tammy Root (M.A.) Ph.D. Program at Penn State
The Relation Between MMPI-2 Profiles and Parental Reports on Children's Behavioral Functioning in Child Custody Litigation
Josh Bricker (M.A.) Employed doing research
Age-Related Declines in Information Processing and Cognitive Resources
Serah Fatani (M.A.) Ph.D. Program at DePaul University
The Accuracy of Personality Judgments and the Role of Interviewer Bias in the Multiple Applicant and One on One Interview Formats
Lorrie Jund (M.A.) Employed doing research
Negative mood Expectancies Among Learning disabled and Honor Students
Lawrence Wright (M.A.) Ph.D. Program at UC Riverside
Judging Trait Anxiety: How Much Time Does it Take?
Natalie Vogel (M.S.) MFT Intern
Aggressive Behavior and Alcohol Use Among Fraternity Members
Randi Cowdery (M.S.) Ph.D. Program at University of Laverne
Self-efficacy and episopic memory performance among older adults: The impact of Recent Spousal Bereavement
Cherie Ibanez (M.S.) MFT Intern
Motives of Marijuana and Alcohol Use
Timothy Kovacs (M.S.) MFT Intern
College Students' Attitudes and Involvement Toward Computer and Web Use
Mary Catone (M.S.) MFT Intern
Mood Regulation Expectancies, Burden, Depression, and coping in Caregivers of Acquired Brain Injured Individuals
Sarah Catron (M.S.) Pupil Personnel Services Program. CSU Long Beach
Optimism and Responses to Relationship Dissatisfaction
Alicia Gregory (M.S.) MFT Intern
Do Cognitive Gender Differences Exist Using a Release from Proactive Interference Method in an Aural-Verbal Presentation Form?
Sarah MacNerland (M.S.) MFT Intern
Attitudes Toward Psychotherapy Among Asian, Caucasian, and Hispanic Females
Lisa Pollitt (M.S.) MFT Intern
Attachment, Mood Regulation Expectancies and Trust in Adult Romantic Relationships
Katie Tone (M.S.) Ph.D. Program at Alliant University, San Diego
Assessment of Gender Differences in Encoding Attributes of Occupations: A Release from Proactive Interference Technique


Honors and Awards
The Psychology Honors and Awards Banquet was held on May 24 at Angelo's and Vinci's in downtown Fullerton. Award recipients included:
Miriam Valdovinos, Outstanding Undergraduate Student Award
The Outstanding Master of Science Student Award was shared by Timothy Kovacs and Jyotsnaben Patel
Lawrence Wright, Outstanding Master of Arts Student Award
The Outstanding Alumnus Award recipient was Jennifer Trevitt, post-doctoral neuroscientist at the University of California, Irvine
Lawrence Wright, Ed Stearns Exemplary Statistics and Research Design Award
Enjolie Lafaurie received the Professor Loh Seng Tsai Award
Lawrence Wright and Enjolie Lafaurie received the Professor Frank Bagrash Award
Professor Jack Mearns received the Graduate Reciprocity Award
Jinni Harrigan was honored as the Outstanding Professor for 2001-2002.
Congratulations to all and many thanks to Professor Jennifer Devenport for organizing this event.
Visit the department Web site
Take a look at the department's Web site at http://psych.fullerton.edu/. You can find information on faculty, advisement, and links to useful sources of information for psychology majors. And don't forget the many campus career resources such as the Career Planning and Placement Center and the Center for Careers in Teaching.
Department News
Congratulations to Professor Nancy Segal. Dr. Segal was named the Outstanding Scholar in the College of Humanities & Social Sciences. This award is a well-deserved recognition of Dr. Segal's many accomplishments including books, articles, presentations, and research grants focusing on the study of twins. A ceremony honoring Dr. Segal will be held later this year.
Hong Nguyen, a new student in the Master of Arts program, has just been awarded a Graduate Equity Fellowship by the University. The Fellowship provides a $3,000 stipend for the year.


Check your e-mail in H-525: Two computers with Internet connections have been installedin the student lounge (H-525). These are not general workstations like the computersin the library. However, they should be useful for a quick check/send ofyour e-mail in between classes.

---
Do you have news or suggestions for the next newsletter? Contact Dr. Perkins via e-mail.
Read previous on-line newsletters:
November 2000
February 2001
April 2001
September 2001
November 2001
April 2002
Return to the Psychology Department Home Page